All of my VS lipsticks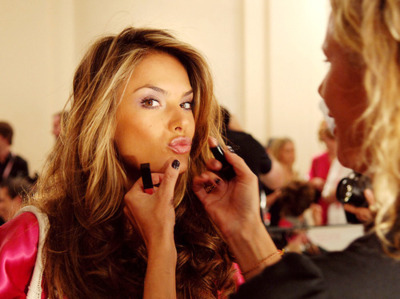 "Wish" Just thought I'd include this one to show you the old packaging.
This was my first VS lipstick purchase. This is the old packaging, but this shade is still available in the new packaging. Victoria's Secret has now re-formulated their lipsticks and now have added the sheer drama lipsticks to their line. All of Victoria's secret's makeup is very reasonably priced for the quality. It feels very luxurious, especially these new sheer drama's. I also have one of their bronzers and a few blushes that I love, which I'll have to do a seperate post on. These lipsticks are all very creamy and moisturizing on the lips. The regular line called Color Drama are very pigmented and last very long on the lips. The sheer drama's are very sheer of course like the name proclaims, and very moisturizing. I would guess that these are very comparable to Dior Addict lipsticks, YSL sheer candy, or the Chanel rouge coco shines.
Of course I do not own any of these so I could not tell you that I am 100% positive. But I can tell you that I am positive that these are more moisturizing than Mac Lustre finishes and Revlon lip butters, which are my 2 favorite lipstick formulas. The only thing that I hate about purchasing these are that the swatches are not accurate on the VS site, and I can't find any swatches on blogs. Most people don't even know that Victoria's Secret makes makeup and that sucks because it's awesome and I love it!
"Thrill Me"
"Daydreamer"
"La Dolce Vita"
Swatches from top to bottom- Wish, Thrill Me, Daydreamer, and La Dolca Vita.